Conveniently close to both the airport and city centre, Barcelona cruise port has 7 terminals in total where cruise lines such as Royal Caribbean, MSC Cruises, and Norwegian Cruise Line berth. Royal Caribbean uses the Moll Adossat terminals when docking in Barcelona alongside the other cruise lines.
Barcelona Cruise Terminal Address:
Adossat Quay
Cruise terminal A -

Moll Adossat, 1, 08039 Barcelona, Spain

Cruise terminal B - Moll Adossat, Terminal B de creuers, 08039 Barcelona, Spain

Cruise terminal C - Terminal Sur, 08039 World Trade Center, 08039 Barcelona, Spain

Cruise terminal D - C/ Moll adossat, s/n, 08039 Barcelona, Spain

Cruise terminal E - Muelle, Moll Adossat, 160, 08039 Barcelona, Spain
World Trade Centre
Terminal Nord - Moll 18 A Barcelona, 08039 Barcelona, Spain

Terminal South - World Trade Center s/n, 08039 Barcelona, Spain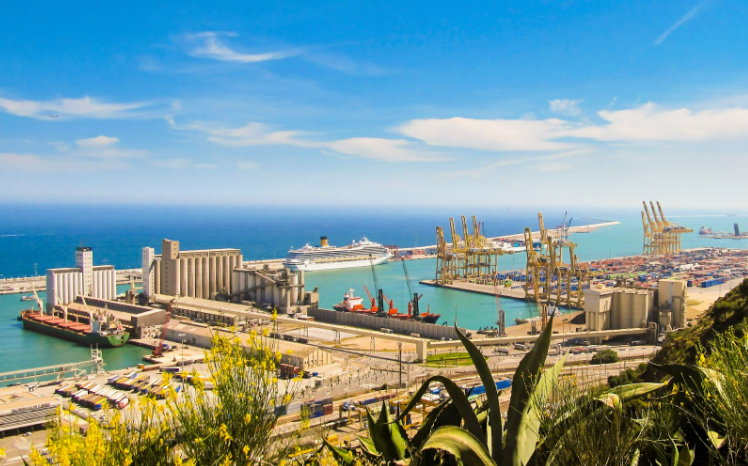 How to get to Barcelona Cruise Terminal:
Find your route to the cruise port from either the city centre or Barcelona airport below. From taxis, and private transfers to even a walk along the streets of Barcelona.
From the City Centre To Barcelona Cruise Ports:
Many people on fly cruises choose to go 1 or 2 days before their cruise to explore and sightsee, booking hotels in the city centre and then heading down to the port on departure day. The distance between Barcelona city centre from the cruise port is around 5 kilometres but many hotels are located very close to the cruise ports meaning you could even walk depending on your luggage!
The different options to travel to and from the port are:
Taxi - cheap and quick (normally less than 10 minutes). Taxi fare: approx. €20.00
Private transfer - book online before the trip and skip the queues - get into the city centre quicker for a stress-free arrival. Little more expensive than other modes of transport
Walking - You can walk from the cruise port to the city centre. It is a simple 15-minute walk from the North and South terminals. It is not recommended to walk from terminals A, B, C, D, or E as it is a 2km walk to Columbus Monument - foot of La Rambla. That would make it a total of 5km.
Shuttle Bus service: "Blue Bus" - runs between cruise port terminals and Columbus Monument. Easy access for travellers with a disability with a wheelchair (fitted with a hydraulic ramp). Can book bus tickets in advance online or in cash when entering the bus.
Prices:
Single - €3.00
Return - €4.50
The bus coordinates its schedule and frequency depending on the arrival and departures of the cruises, not a regular bus schedule, and runs on demand.
From the Barcelona Airport to the cruise terminals:
Get from Barcelona airport to the cruise port easily with the transport options below. Please note that none of the public transport methods take you directly to the ports. You would need to make several changes using different transport systems or be prepared for some walking.
Public Transport -
From Terminal 1 take the A1 Monbus non-stop service to Plaza Espanya. From Terminal 2 take the A2. This service is every 8 minutes and takes about 20 min. From Plaza Espanya take the D20 bus from bus stop Plaza Espanya - Paral·lel (Stop ID: 788) for around 12 minutes for 6 stops to Paral·lel - Drassanes. From here you are close to the entrance of the cruise port.
Taxi - the journey takes 25 minutes. No additional charges for luggage. Taxi fare: approx.€39.00
Private valet transfer - arrange a private transfer before travelling. Reserve the service before the trip and no queues. Personal service is reassuring in an unfamiliar city. Price is dependent on the company you hire from.
Barcelona Cruise Port Car Parking:
The Barcelona cruise port does have car parking. They provide both short-term and long-term parking. You can see the duration and cost below.
Short stay - There are short-term car park facilities to give enough time to load and unload.
Long stay -
Parking for any of the terminals is located in the World Trade Centre.
Price:
€25 a day

€75 3-7 days

€85 for 8 days

€10 for each additional day.
A secondary option can be independent car parks close to the cruise port. These allow you to stay there for days/weeks.
Hotels near Barcelona Cruise Port:
You can find many hotels near Barcelona Cruise Port. These are located along the seafront so the port is easily accessible on departure days.
The nearest hotel to the docks - Eurostars Grand Marina hotel @ World Trade Centre
Along the seafront -
Gran Hotel Havana

Hotel Catalonia Port

Grums Hotel & Spa

Hotel Best Front Maritim

Hotel SB Icaria
Barcelona Cruise Terminal Facilities:
Barcelona Cruise Port has a wide range of facilities to offer. With so many different terminals come different facilities. The terminals further from the World Trade centre may offer slightly more as they are more "remote" to the hussle of the World Trade centre.
Terminals A, B, C, D
Waiting lounge - there is seating in all of the terminals. A, B, and D have VIP lounges too while D also has a children's zone.
Toilets - Each terminal has numerous toilets on the ground floor
Shops - There are duty-free shops in each cruise terminal. Each terminal has souvenir shops too. There is a close shopping area around the harbour too so shops in the terminal are not your only option.
Food - There are bars and restaurants at each terminal. At terminal D, enjoy a terrace view from the bar/restaurant.
Disability Access - The port caters to those with a disability including wheelchairs. The port has lifts at all major locations meaning easy accessibility for those in wheelchairs. There are also widened doors and toilets for people who are disabled. Wheelchairs are available but it is recommended to arrange mobility assistance with the cruise line.
Additional services -
Air conditioning (all)

One passenger gangway (C)

Two passenger gangways (A, B, D)

Luggage conveyors (A, B)

Public telephones (all)

Foreign exchange (all)

Meet and Greet ground service (D)

Internet point (D)
North/South terminal:
Services available -
Air conditioning

2 passenger gangways

Public telephones

Foreign exchange

Duty-free shops

Souvenir shops
The main reason for not having any bars/restaurants at the north and south terminals is that upon departure, you will be in the World Trade Centre. Here, there are a variety of options for you to eat at.