Travelling once you have had a baby can certainly feel overwhelming. But your cruise holidays don't need to stop once you start a family.
Some cruise lines do not have a minimum age limit when it comes to infants. For further guidance on age limits, please visit our article 'Is there a minimum age limit to cruise?'.
Many will offer a reduced cruise fare as well. And it goes without saying that many cruise lines offer complimentary night nurseries, children's clubs (including babies) and fantastic facilities such as splash pools and well-known characters onboard (check out Peppa Pig on your next Costa Cruise or Wallace and Gromit who travel with P&O Cruises).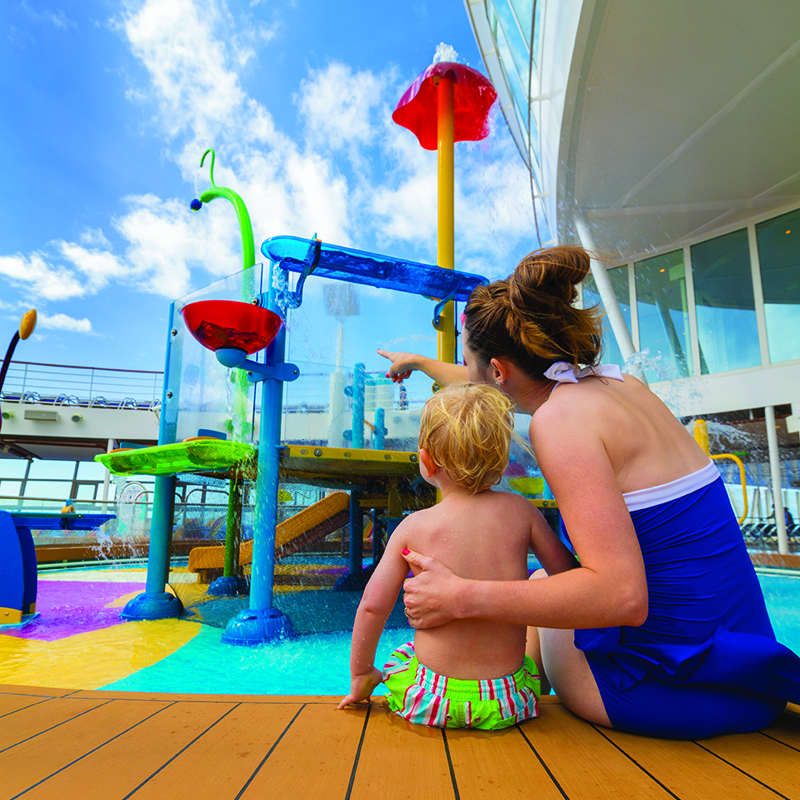 How much will it cost to take my baby on a cruise?


MSC - FREE
Cunard - FREE (under two's still have to pay the daily gratuity charge)
Costa - FREE (however the port fees and taxes are still payable for under two's)
P&O Cruises - Under two's travel at a reduced rate
Disney - Under three's will pay a reduced fare (often half the child fare)
Royal Caribbean - no reduction*
Carnival - no reduction*
Princess - no reduction*
Norwegian Cruise Line - no reduction*
Celebrity - no reduction*
*Please be aware that almost all cruise lines will offer a reduced rate for the 3rd and 4th passengers in a cabin. This will apply if they are infants, children or adults.
When cruising with an infant, make sure you also take into consideration any additional charges such as a travel cot, baby bath and gratuities.
Should you wish to hire a travel cot or any other baby equipment, please ensure you let our Sales Advisor know at the time of booking, or speak with our Customer Care Team if you have already booked your holiday with us. Your cruise line will need prior notification.
Flying with infants
Many airlines do not charge for an infant, as under two-year-olds do not occupy a seat and will need to sit on your lap throughout the flight. Some airlines may charge a small fee when travelling with an infant under the age of two.

Make sure you check the luggage allowance for your infant. Some airlines will include a small amount of luggage allowance, and some don't include any at all. Most airlines will give you the option to add extra luggage for an additional charge.



What should I consider when deciding on a cruise with my infant?

There is a cruise for everyone, and our under-two-year-olds are no exception. 
If you would like a quiet cruise line with a traditional feel, then Cunard may be the cruise line for you. And with their complimentary night nursery and a large number of sailings out of Southampton, Cunard will really take care of you and your little one.
If you would like to sail with a cruise line that has a lot more for babies, MSC is a great choice. With a huge amount of facilities on board and a partnership with Osservatorio Chicco MSC will offer you a cruise that is "tailormade for babies". For more information on this, click here.
P&O Cruises are geared up for children of all ages. With children's clubs on offer from 6 months to 17 years old. There is a specific dining time for children in the buffet restaurant. P&O provide HIPP Organic Baby Food jars on board as well. Or if you would prefer the crew are more than happy to mash or puree adult food from the main restaurant.
With FREE child places and an outdoor Peppa Pig area, Costa Cruises is a great choice for families with very young children. If you are sailing on board Smeralda or Toscana there is a complimentary babysitting service.
Costa has a 'Baby Squok Club' for 1-3 year-olds, which provides a space for their younger guests to have some fun!
And families will not want to miss Costa's dedicated 'Nutella' area where they can try many different recipes with everyone's favourite chocolate spread!


Looking for your family summer cruise? Find the best ship, ports and destination for you by checking out our blog - Best Family Cruises Summer 2024.
During peak season there's limited availability so don't miss out and book a holiday you'll never forget stress-free - all the info you need to choose is right here!